FOR IMMEDIATE RELEASE
January 30, 2023
Contact: Jen Patja Howell
Co-Executive Director, VA Civics
434.535-1787
2023 John Sponski Civic Champion Cup Award Winner
Recognizing a long-time champion of the We the People program from Douglas S. Freeman High School
The "John Sponski Civic Champion Cup" is meant to recognize a volunteer, teacher, or student who exemplifies a strong commitment to building civic engagement within their community. We have named this award for our Chairman Emeritus who was one of the greatest supporters of civic education. He tirelessly supported the We the People program for 15 years, first as a volunteer, and then as a friend, an advocate, a donor, and a founding director of Virginia Civics. His dedication to education, to service, to community, to country, and to our students and teachers is what inspires this award and is what we used as the standard by which we selected its recipient.
Sponski Cup nominees are solicited over the fall and winter, and a winner is selected by a vote of the Virginia Civics Board of Directors in early January. The winner receives their name on the the larger Sponski Cup, a smaller engraved cup with their name, and a $500 cash prize.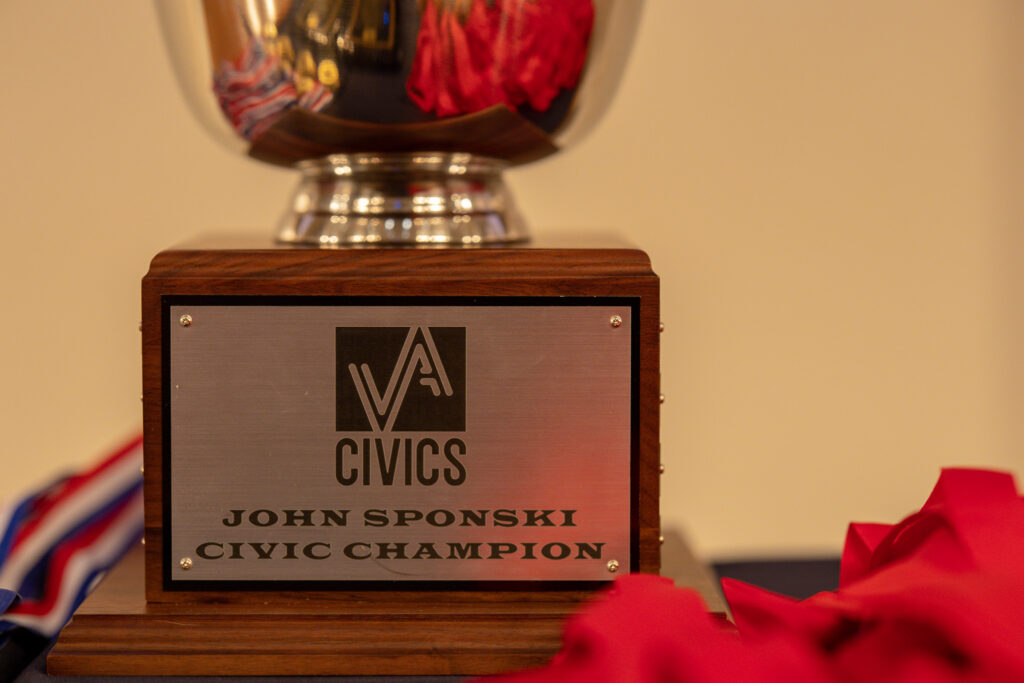 This year's Sponski Cup awardee is a civic champion to his core. He has been the director of the Center for Leadership, Government and Global Economics at Douglas Southall Freeman High School since 2000. He has been involved as a teacher with We the People for 14 years, and more than that, he has been deeply invested in keeping this program going in two ways. First, not only has he coached students in the program and brought several teams to the We the People Nationals where they consistently place in the Top 10, but since 2010, he's also mentored many other teachers who now implement this program in their classrooms. Second, over the years he has gone above and beyond to make sure we have a place to hold our competitions. It isn't always easy to find a suitable venue, sometimes at the last minute, and especially on a budget, and we are always incredibly grateful for the spaces we can use. Thanks to the dedication of this year's awardee, we've been able to hold multiple competitions at Freeman High School including the Central Regionals in 2021 and the Middle School State Finals in 2018.
His dedication is an inspiration to his students, to his colleagues, and to us. We are thrilled to announce that the second annual John Sponski Civic Champion Award goes to Mr. Rob Peck.